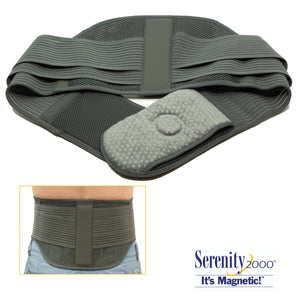 Magnetic Lumbar & Waist Support - NEW
This Magnetic Lumbar & Waist Support features a total of 21 magnets.
20 (2500 gauss) magnets at the back and one large (10,000 gauss) magnet at the front.
Get the proper lower back and lumbar support you need with Serenity2000 Lumbar & Waist Support. Our professional design effectively engages your core and lower back muscles, giving you relief from back pain without feeling cumbersome. Steady pressure from the brace also stabilizes your lower back muscles, providing better balance and improved posture. No more back pain with targeted compression and powerful magnetic therapy right where you need it most!
Relief of back pain, herniated discs, sciatica, sore muscle, and back injuries.  This product delivers maximum coverage and results without restricting movements.
Biometrics:
Woven into the material, absorbs body heat and returns it in the form of far infrared energy for fast positive results.
The Magnetic Lumbar & Waist Support is featured in three sizes:
- Medium        (up to 42". SKU#40044)
- Large            (up to 48". SKU#40045)
- Extra Large  (up to 58".  SKU#40046)
---
We Also Recommend
---