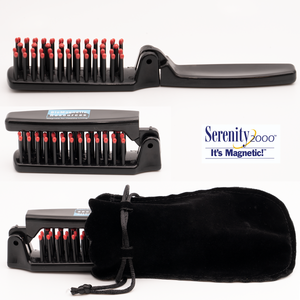 Magnetic Hairbrush - NEW
Handy, folding magnetic hairbrush for healthy scalp & luxurious hair!  Compact and easy to carry around in your pocket or purse.

8 powerful magnets are laminated to the tips of the bristles in the center row.
For best results,  brush with 50 slow, deliberate strokes, twice daily.  Avoid use 1 hour prior to bedtime.   
Can be used on other parts of the body to improve circulation & stimulate acupuncture points.
Magnetic Material: Grade 8 Ceramic
Manufacturer's Rating: 4000 Gauss
Surface Gauss; 350 Gauss 
Penetration: 3" (7.5cm)
Polarity: Bi-polar ( - & + )
Caution:
Persons fitted with pacemakers, defibrillators, implanted insulin pumps, or other electronic medical devices should keep magnetic products at least 18" (45cm) from the device. Pregnant women should consult their health care professionals before using magnetic products.
---
We Also Recommend
---