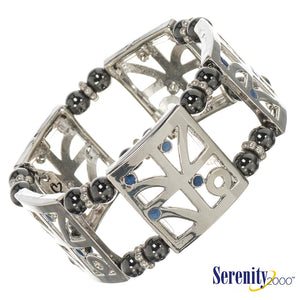 "Anat" - Fashion Bracelet
This powerful magnetic fashion bracelet with its Germanium-Negative Ion beads is an exciting new addition to our Fashion collection.
ENERGY - POWER - BALANCE

Magnetic material: Grade 8 Ceramic
Manufacturer's Rating: 4000 Gauss
Surface Gauss: 500 - 1000 Gauss (depending on magnet size)
Penetration: 3" (7.5cm)
Polarity: Bi-Polar (- & +)
Caution:
Persons fitted with pacemakers, defibrillators, implanted insulin pumps or other electronic medical devices should keep magnetic products at least 18" (45cm) from the device. Pregnant women should consult their health care professional before using magnetic products.
---
We Also Recommend
---