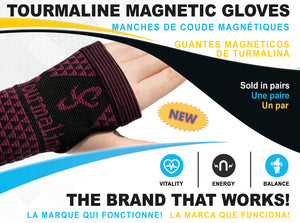 Tourmaline / Magnetic Gloves - NEW
The Tourmaline / Magnetic Gloves provides gentle support and warmth
to relieve discomfort in the hand, wrist area.
Elasticized, pull-on tubular thumb loop design without restricting movements!
Sold in pairs. Each box contains 2 x gloves.
The woven-in fibers: Tourmaline / Magnetic / Biological and Far-Infrared fibers
provide a uniquely positive impact on your feeling of wellness.
Comfortable stretch material.
One size fits all!
Hand wash in warm water and hang to dry.
---
We Also Recommend
---